Asian low price ecommerce marketplace Temu is expanding globally, becoming the most downloaded app in the US. GAM Investments' Wendy Chen explains how it is achieving success.
7 November 2023
Click here to view the full Disruptive Strategist Newsletter.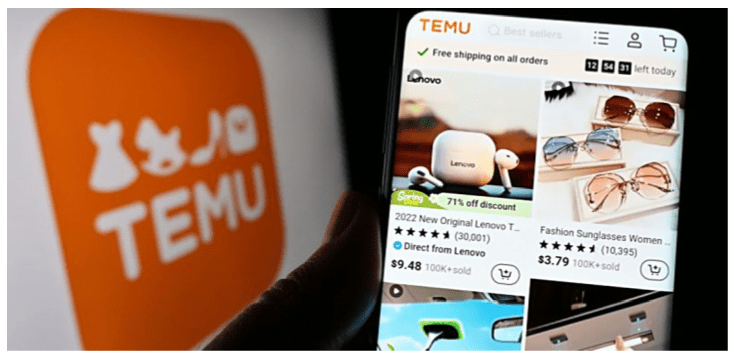 In September 2022, a newly launched ecommerce platform named Temu made a grand entrance in the US through its extensive advertising campaign in Times Square New York. In just four months, Temu, with its 'shop like a billionaire' tagline, became one of the most downloaded apps in the US, overtaking WhatsApp, TikTok and Instagram to sit on the top-ranked app list in Apple and Google Play stores.
Yet Temu's endeavour is not limited to the US. Half a year after its successful launch in the US, Temu expanded its footprint to Australia and New Zealand in March 2023, and launched its first UK website the following month. This was swiftly followed by a serial launch in the eurozone across Germany, Netherlands, Italy, France and Spain. As at August 2023, just one year since inception, Temu has ventured into over 40 countries across the globe, with more than 100 million active users in the US alone, and around 40 million app downloads worldwide in September 2023.
How does 'shop like a billionaire' work?
The general feedback on Temu merchandise is about its absurdly low prices. One can get a decent dress for less than USD 2 and wearable electronics for less than USD 5. It has greater stock-keeping unit and larger variety of products than many of the neighbourhood dollar stores, while offering lower prices than most ecommerce platforms (even during discount seasons).
The secret recipe behind Temu's price competitiveness is its 'fully-entrusted business model', which stands between the usual first-party (1P) e-commerce model (while the platform acts as a retailer to sell products directly) and third-party (3P) e-commerce model (while the platform acts as a marketplace for retailers to sell product themselves).
Under such a model, Temu sources products directly from factories, asking for nothing but shipping packages to Temu's warehouses in destination countries, while Temu will take care of the rest. Temu oversees customer acquisition, pricing decisions, logistics fulfilment and after-sales service. With such a model, Temu retains its authority on quality control, delivery process and customer experience (benefits of the 1P model), while still benefiting from a wide selection of merchandises and easy scalability (benefits of the 3P model). Moreover, by shortening the supply chain from factory to platform, Temu has not only saved costs but also avoids taking inventory risk.
US internet peers: winners and losers amid the oriental impact
Being one of the fastest growing online retail platforms this year, Temu has undoubtedly impacted many business models in the US and other destination countries, both online and offline.
Offline retail: As a natural substitute for the dollar stores, the 'Temu threat' has been a driver of share price underperformance for US discounters such as Dollar Tree (DLTR.US), Dollar General (DG.US) and Five Below (FIVE.US).
E-commerce: The rise of a new e-commerce platform with a staggering user acquisition speed has not only outcompeted US players like Amazon, eBay and Etsy, but also threatened its fellow Asian ecommerce incumbents like Shein. It is estimated that 15% of US consumers have been exposed to the brand, reaching the ubiquity other platforms took years to achieve after only a few months. Unsurprisingly, multiple rounds of counteracting campaigns have been planned by its competitors.
Advertising technology: With a 30-second advertisement during the 2023 Super Bowl that cost USD 14 million, Temu, along with its parent company Pinduoduo (PDD.US) has become one of the largest players in the US advertising space. Such an aggressive global expansion campaign, together with counteraction by the incumbents (such as Shein), has driven a notable incremental growth of digital advertising spending in 2023.
Important disclosures and information
The information contained herein is given for information purposes only and does not qualify as investment advice. Opinions and assessments contained herein may change and reflect the point of view of GAM in the current economic environment. No liability shall be accepted for the accuracy and completeness of the information contained herein. Past performance is no indicator of current or future trends. The mentioned financial instruments are provided for illustrative purposes only and shall not be considered as a direct offering, investment recommendation or investment advice or an invitation to invest in any GAM product or strategy. Reference to a security is not a recommendation to buy or sell that security. The securities listed were selected from the universe of securities covered by the portfolio managers to assist the reader in better understanding the themes presented. The securities included are not necessarily held by any portfolio nor represent any recommendations by the portfolio managers nor a guarantee that objectives will be realized.

This material contains forward-looking statements relating to the objectives, opportunities, and the future performance of the U.S. market generally. Forward-looking statements may be identified by the use of such words as; "believe," "expect," "anticipate," "should," "planned," "estimated," "potential" and other similar terms. Examples of forward-looking statements include, but are not limited to, estimates with respect to financial condition, results of operations, and success or lack of success of any particular investment strategy. All are subject to various factors, including, but not limited to general and local economic conditions, changing levels of competition within certain industries and markets, changes in interest rates, changes in legislation or regulation, and other economic, competitive, governmental, regulatory and technological factors affecting a portfolio's operations that could cause actual results to differ materially from projected results. Such statements are forward-looking in nature and involve a number of known and unknown risks, uncertainties and other factors, and accordingly, actual results may differ materially from those reflected or contemplated in such forward-looking statements. Prospective investors are cautioned not to place undue reliance on any forward-looking statements or examples. None of GAM or any of its affiliates or principals nor any other individual or entity assumes any obligation to update any forward-looking statements as a result of new information, subsequent events or any other circumstances. All statements made herein speak only as of the date that they were made.